Baseball Lessons & Training
*Cancelled Lessons within 24 hours of Lesson will be charged during Sluggers peak season (January 1 – April 30)
Basic Packages- $250/ 5 Sessions – 30 Minutes Each
Single Basic Lesson: 30 Minutes – $75
Learn the fundamentals of baseball or softball! Choose a concentration of hitting, fielding, or pitching and one of our professional staff members will create a lesson plan tailored to your Slugger. Basic Packages will focus on skill development. Our Basic Package has 5 Lessons, Each Lesson 30 Minutes.
Pitching/Hitting To Perfection- $400/ 5 sessions – 1 Hour Each
Single Perfection Lesson: 60 Minutes – $100
Experienced instructors will help perfect your Slugger's pitching or hitting skills. This package is designed to help develop skills to the next playing level for your Slugger. Our Perfection Package has 5 Lesson, Each Lesson 60 Minutes.
Baseball Hitting Analytics Training Package- $600/ 5 Sessions – 75 Minutes Each
Get the most out of your career with Sluggers Analytics-Based Training Package! This package helps athletes train the way the pros do; with advanced metrics including Exit Velocity, Launch Angle, Pitching/ Throwing Velocity, Spray Charts, and more. All of this comes in addition to the expertise we proved in the perfection package. Our Baseball Hitting Analytics Package has 6 Lessons, Each Lesson 75 Minutes.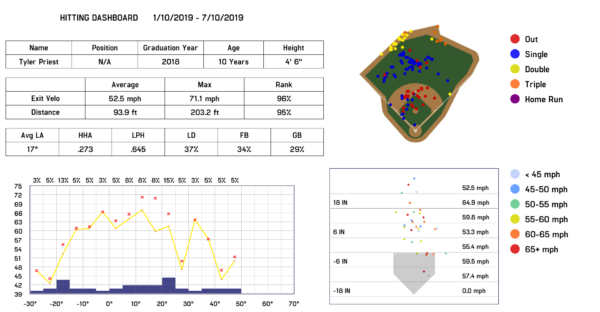 Rapsodo Pitching Analytics Training Package – $500 / 5 Sessions – 60 Minutes Each
Single Rapsodo Lesson: $125
Rapsodo is new device using radar & optics to provide advance analytics on pitches. Each thrown pitch gets data recorded for its velocity, spin direction, spin efficiency, release angle, release height & location. We use this data help formulate which pitches and pitcher should use in his repertoire and where he should thrown these pitches.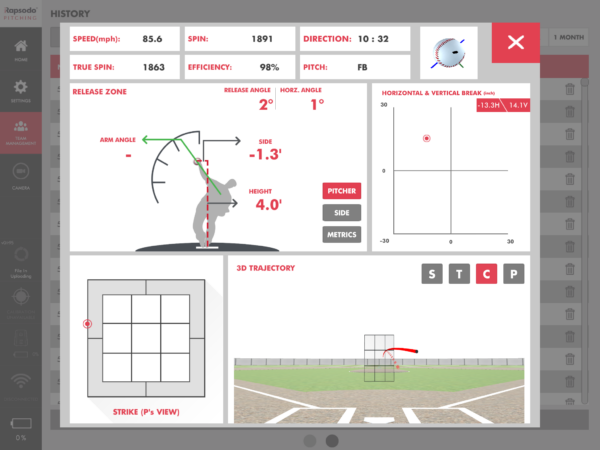 Baseball Strength and Agility Package- $275/ 8 Sessions – 45 Minutes Each
Our Strength and Conditioning Package is for those athletes looking to increase their strength, stamina, and agility throughout the offseason and heading into their preseason. This program contains drills to improve athleticism through the use of cones, ladder, and hurdles. In addition, medicine balls, small weights, and bodyweight circuits are used to improve their strength and increase explosiveness. We highly recommend sessions to be done at least twice a week to get the full value of this program. Our Strength & Conditioning Package has 8 Lessons, Each Lesson 45 Minutes.
Hitters Increase Power/Bat Speed Training Package – $750/10 Sessions – 1 Hour Each
*This package is for serious athletes only. MUST Attend 3 days a week to get full benefit from the training package.
This program is for players who want to increase their power and exit velocity. In this package players will hit a variety of weighted balls and swing a variety of lite & heavy bats.
Program will follow Driveline protocols and hitting drills.
Players must be at least 13 years old.
Players MUST Pass Assessment Test Before Starting Package.
Players must commit to coming to Sluggers Monday, Wednesday & Friday for 4 weeks.
Throwing Increase Velocity Training Package- 28 Sessions (8 Weeks – 3/4 Lessons per Week) – 1 Hour Each
COST $850 (Sluggers Travel Baseball Players)
COST $1,200 (Non Sluggers Travel Baseball Players)  
*This package is for serious athletes only. This is not a pitching program, rather it is a throwing program*
Program will follow Driveline protocols and throwing drills.
This program is for Baseball players and will be done over 8 weeks, with 24 sessions to help increase your Slugger's velocity. There are several requirements to be able to buy this package:
Player must be at least 14 years old.
Player must pass an Assessment Test before the training starts. Assessment Test is 3 range of motion exercises.
Player must commit to coming to Sluggers Monday, Wednesday & Friday for 8 weeks. Players can choose time of day that they come.
College Recruitment Skills Video- $250
This package is for high school baseball and softball players who are looking to move on to the collegiate level. Sluggers will shoot and produce a college recruitment video for your player. In this video, we will shoot all aspects of their game that they want to showcase to colleges while using our instructors' knowledge to showcase what coaches want to see as well. Sluggers will then give the video to the athlete to provide to colleges on their own.
Baseball IQ Package- $200/ 5 sessions – 1 Hour Each
Whether you need to know the basics between a force play versus a tag play or need an advanced strategy for which pitch to throw to strike out the last batter this package is for you! One of our professional staff members will arrange lessons to cater to your needs. All sessions will include one on one teaching in a classroom setting with diagrams of the field and some on-field demonstration. Our Baseball IQ Package has 5 Lessons, Each Lesson 60 Minutes.
Mini Group Packages
Mini-Group Lessons are GREAT for carpooling! Have a friend that wants to join you? Bring them along for our group lessons! Pick one or two skills to focus on for the hour session and our instructor will make a lesson plan based on your needs and skill level! Great for pitching, hitting, fielding, or catching!
Single Lesson Mini Group
2 Players: $140
3 Players: $180
Package of 5 Mini Group Lessons
(Must be same group members each lesson)
2 Players: $500
3 Players: $675
Lesson Package Topics Include the Following
Hitting
Stance Alignment with the Plate
Timing Techniques
Hand Placement on Bat
Tee-Drills
Increased Hand Speed
Recognition of Spins
Plate Awareness
The proper way to get hit by the ball
Bunting Form & Techniques
Baserunning Intelligence and speed
Pitching
Mechanics Techniques
Balancing Importance Perfection
Head Control (Mentally & Physically)
Grips and Spins
Stride Importance & Hip Control
Explosive Movements and where to use them
Arm Care/Strength
Accuracy
Pitching Intelligence
Catching
Skills taught will be: footwork to 1st, 2nd, and 3rd, receiving, blocking, and techniques to give signs and hold runners
Improve Arm Strength
Increase Intelligence behind the plate
Overall intelligence to run the game
TEAM TRAINING AT YOUR HOME FIELD OR LOCATION
Is Sluggers too far for your team and parents to travel? No worries… we will come to YOU! You let us know a date and time with advanced notice and Sluggers will send an instructor to your location for your team training session! Tell us what you would like implemented at practice and how big of a space you have and we will make a personalized practice plan for your team!